Product Description
Organic Intermediate Hollow Paddle Dryer Description:
Paddle dryer, applicable for drying or cooling of paste, particle, powder and slurry state of material, perform the process of drying, cooling, heating, sterilizing, reacting and combustion under low temperature. The special stirring and heating transferring blade, makes high heat transferring efficiency, and provide self-cleaning function. The special wedge shaped stirring and heat transferring blade has high heating efficiency and self-cleaning function of the heating transferring surface.
Organic Intermediate Paddle Drying Machine Work Principle:
Hollow wedge shaped blades are concentrated on the hollow shaft. Heat media flow through the blade from the hollow shaft. The heat transferring area in the effective volume is very high. The temperature range of heating media is -40 °Cto 320 °C. It might be steam, or liquid state, such as steam, thermal oil etc. Indirect heating, there`s no heat carried out by air. All heat is utilized for to drying the material except the lost of heat insulation layers. The surface of wedge shaped blade has self-cleaning function. The relative movements of the product particles and the wedge shaped surface might clean the material attached to the wedge shaped surface, so to keep the cleanliness of heat transferring surface during working. The shell of hollow blade dryer is Ω shape. 2 or 4 pieces of hollow stirring shaft are usually equipped in the shell. To avoid any leakage of material, there`re sealed terminal cover and top cover with the shell. The heat transferring media flow through the rotation connector, jacket`s shell and hollow stirring shaft. To ensure best transferring effect, the hollow stirring shaft adopts different interior structure in accordance with different heating media.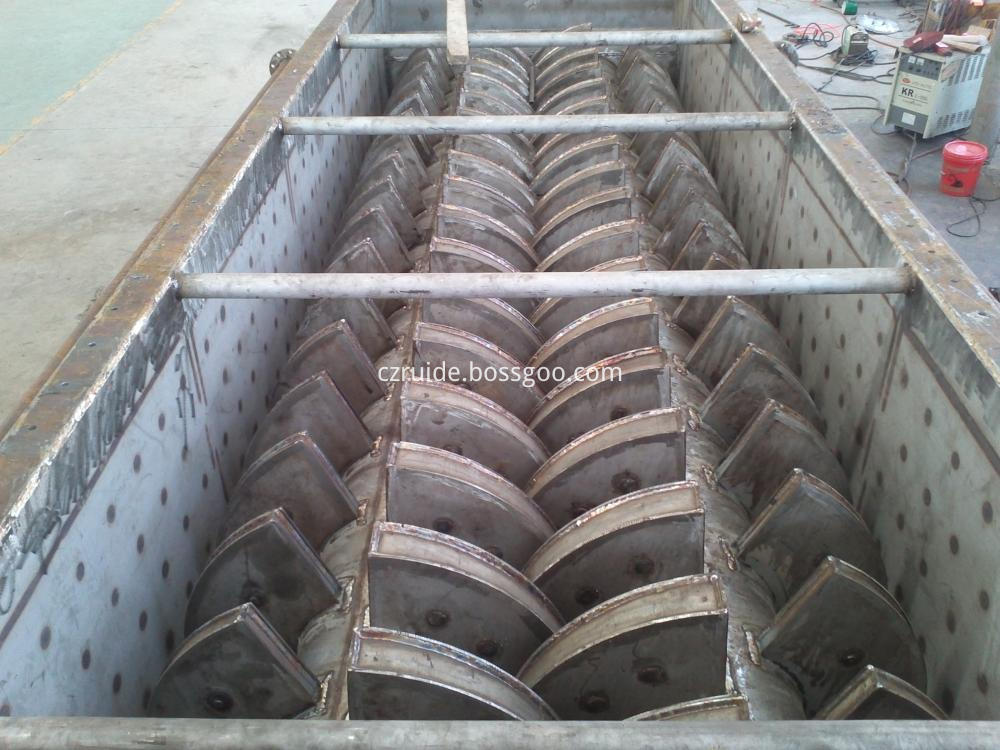 Organic Intermediate Hollow Paddle Drying Equipment Product Characteristics:
1. The cost of the blade dryer is low: The unit effective volume has very large heat transferring surface, so the processing time is shorted, the size of the equipment becomes small. The building area and place are sharply decreased.
2. The range of material to be processed is wide: Heat sensitive material and the materials to be processed under high temperature might be processed with different heating media. The normal media are: steam, thermal oil, hot water and chill water. It might be continuous or batch operation, widely used in many areas.
3. The pollution is less: Without any carrying air, very little powder is carried out. The solvent evaporated is very few, it easy to be processed. For the material that might cause pollution or the solvent to be recovered, it might adopt sealed circulation.
4. The operation cost is low: 1hour/day.operator is enough for normal operation. Low stirring speed and reasonable structure, the worn amount is few, and the maintenance fee is low.
5. Steady operation: The material particles fully contact heat transferring surface, because of the special compressing and swell-stirring effect of the wedge shaped blade. The difference of the temperature, humidity and mixing effect are very small in the different axial area, so to ensure the stability of process.
Paddle Drying Equipment
Material to be dried:
The blade dryer is successfully applied in foodstuff, chemical, petrochemical, dyestuff, and industrial mud etc. The heating transferring, cooling and stirring characters enable it to perform the following unit operation: combustion (low temperature), cooling, drying (recovery of solvent), heating (melting), reacting and sterilizing. The stirring blade is heat transferring surface too, so to increase heat transferring area of unit effective volume is increased, and decrease processing time. The wedge shaped heat transferring surface has self-cleaning function. Compressing and swell-stirring functions make the material mixed uniformly. The material performs the movement of "piston fl­ow" along the shaft. The difference of the temperature, humidity and mixing effect are very small in the different axial area. The blade dryer is capable to perform combustion under low temperature if we adopt thermal oil as heating media, such as Ca Ca2SO4·2H2O is combusted into Ca2SO4·1/22H2O, and so on. It`s capable for cooling process with water and chill salted water etc, such as base cooling machine in Na 2CO 3 industry, instead of the old style base air cooler , so to save power and the processing equipment for tail air, and save operation cost. Drying without hot air makes the process of solvent recovery, energy consumption, and control of environment ideal, easy to teat. It`s especially applicable for recovery of solvent and heat sensitive material that is easy to be combusted or oxidized.The uniformity of temperature, humidity and mixing effect in axial areas make the equipment capable for heating and melting, or reaction of solid material. It`s successfully applied in mixed Fertilizer and character transformed starch industries. The blade dryer is also capable for sterilizing food and starch. The big heating area in unit effective area, dry the material to sterilizing temperature very fast, so to avoid quality change caused by long time heating.
Technical Parameter:
Item
Spec

KJG3

KJG9

KJG18

KJG29

KJG52

KJG68

KJG95

KJG110

Heat transferring area(m2)

3

9

18

29

52

68

95

110

Effective volume(m3)

0.06

0.32

1.09

1.85

3.96

5.21

8.07

9.46

Range of rotating speed(rpm)

15-30

10-25

10-20

10-20

10-20

10-20

5-15

5-10

Power(kw)

2.2

4

7.5

11

30

45

75

95

Width of vessel(mm)

306

584

940

1118

1476

1652

2032

2210

Total width(mm)

736

841

1320

1474

1854

2134

2438

2668

Length of vessel(mm)

1956

2820

3328

4114

5258

5842

6124

6122

Total length(mm)

2972

4876

5918

6808

8306

9296

9704

9880

Distance of material inlet& outlet(mm)

1752

2540

3048

3810

4954

5384

5664

5664

Height of center(mm)

380

380

610

762

1066

1220

1220

1220

Total height(mm)

762

838

1270

1524

2032

2362

2566

2668

Steam inlet(inch)

3/4

3/4

1

1

11/2

11/2

11/2

2

Water outlet(inch)

3/4

3/4

1

1

11/2

11/2

11/2

2
Changzhou Ruide Drying Engineering Technology Co., Ltd
Changzhou Ruide Drying Engineering Technology Co., Ltd. is a professional manufacturer of drying, mixing, granulating and grinding equipment. Our firm has strong technical force and adopts CAD system, with a modern workshop. Our company is located in the economic center of Yangtze River Delta - Changzhou. Our company has a large-scale manufacturing site. The engineers and technicians account for more than 70% of total staff members. In accordance with the national GMP standard, Our company has a professional team with support from Tianji University, Dalian university of technology and many other famous universities. We keep up with the latest international development within our scope and advocate scientific orientation. Our company is possessed with excellent means of detection and advanced conception of management. We can meet the requirements of domestic and international customers. The production of our equipment conforms strictly to the ISO9001 international quality management system. Their successful application is in the scope of pharmaceutical,chemical, foodstuff industries and so on, which has achieved the internationalization of the product quality. The honest and practical conduct of enterprise, excellent product quality, precise follow-up maintenance service and excellent after-sale service have gained us market and credit.
Company Name: Changzhou Ruide Drying Engineering Technology Co., Ltd
Representative: Zhongxing Liu
Product/Service: Drying Equipment , Mixing Equipment , Granulating Equipment , Sieving Equipment , Grinding Equipment , Conveying Equipment
Capital (Million US $): 10,000,000RMB
Year Established: 2015
Total Annual Sales Volume (Million US $): US$1 Million - US$2.5 Million
Export Percentage: 71% - 80%
Total Annual Purchase Volume (Million US $): Below US$1 Million
No. of Production Lines: 3
No. of R&D Staff: 5 -10 People
No. of QC Staff: Fewer than 5 People
OEM Services Provided: yes
Factory Size (Sq.meters): 3,000-5,000 square meters
Factory Location: Jiaoxi Town, Wujin District, Changzhou City, Jiangsu Province
Contact Person: Mr. Denis
Tel: 86-519-68231907